Car Air Spring Hydraulic Hose Crimping Machine Tool For Mercedes Suspension Repair Kits
Product Details:
| | |
| --- | --- |
| Place of Origin: | China |
| Brand Name: | TM |
| Model Number: | all kinds of model Mercedes, BMW, Audi, Land rover, Toyota |
Payment & Shipping Terms:
| | |
| --- | --- |
| Minimum Order Quantity: | 1pcs |
| Price: | Negotiation |
| Packaging Details: | Packed in carton firstly,and then reinforced with wooden case for outer packing |
| Delivery Time: | 1 month after received your payment |
| Payment Terms: | T/T, Western Union |
| Supply Ability: | 3,000pcs per month |
Get Best Price
Contact Now
Detail Information

Size:
L850*W900*H1300mm
Crimping Range:
20MM-175MM
Weight:
370Kg
Crimping Force:
100T
Acurracy:
0.05mm
Voltage:
380V, 220V
Power:
4kw
System Pressure:
30Mpa
High Light:

hose crimping machine

,

hydraulic hose crimp machine
Product Description
Air Suspension Crimpimg Machine Hydraulic Crimping Tool For Air Suspension Air Shock Air Spring Mercedes-benz Audi BMW​ Land Rover

Production Description
Crimping Force: 100T
Crimping Range: 20mm-175mm
Standard Die Sets: 10 sets (the size can be done as your requests)
Voltage: 380V and 220V(according to customer requests)
Power: 4Kw
System Pressure: 30 Mpa
Accuracy: 0.05mm
Dimension: L850*W900*H1300mm
Gross Weight: 370Kg(includ 10 moulding sets)
Warranty: 12 Months
Appliion: Vehicle Air Suspensions, Air Springs, shock absorber
After Sales Service: We can give technical support for any problem any time
Package: Strong Wooden Box with Pallet
Crimping force : 100T
Max opening : 175mm
Crimping range : 20mm-175mm
Acurracy : 0.05mm
Standard dies sets : 10 (size customized)
Voltage : 380V / 220V
Power : 4kw
System pressure : 30Mpa
Operate mode : auto , manual , pedal
Weight : 350kg-370kg
Dimension : L850*W900*H1300mm
Crimping way : Transverse withhold
We have upgrated the crimping machine.
Here are some more advantages.
Promote Air Suspension Crimping Machine
Foot pedal of the machine controller was painted in accordance with the safety standards and different color on hydraulic presses. Was installed the connector to connect the foot pedal to the machine.
Crimping machine have been painted wear-resistant, preferably - polymeric paint RAL 5015 that reached to EU requirements.
Have been installed LED-lamps to illuminate the work area of the crimping head.
Have been installed four wheels for easy movement of the machine in the service centre.
Have been installed lifting plate for fixed and lifted the air spring and air shock.

We can offer you 10 moulding sets free .
This machine can be valid to place rings all the usual models such as W164 Front and rear Audi A6 C5, w221, w220, Land Rover BMW and etc.
The brief introduction of high pressure hose crimping machine:
Crimping machine connect rubber, plastic and steel rings through hydraulic power. It applies locking pressure through the mold of crimping machine to swage the metal joint on the matched auto air springs and high-pressure oil pipes, so as to complete the installation assembly.
It's applicable to air spring, all kinds of machinery high and low pressure oil tube, air tube, automobile power steering tube, oil pipe, gasoline supply pipe, as well as buckling of construction fittings and hot water pipe.
It's also widely used in vehicle, engineering machinery, hydraulic machinery, agricultural machinery and so on.
This is our new hydraulic hose crimping machine, can crimp all types of hydraulic hoses:

1. Air spring crimping machine provided with die sets range for 1/4' to 1 1/4' ID hoses.
2. Double angular surface-swaging force up to 450T, powerful yet makes crimping easy.
3. Piston,Cylinder,All dies are wire cut after hardening and grinding.
4. Powder coating body give it a Futuristic sleek & stylish looks.
Our Customers Normally Ask These Questions About the Machine:
1. What does this machine used for?
It can be used to repair or manufacture air suspensions, air aprings for cars and trucks. and aslo the industrial hydraulic hose pipes.
2. What is Voltage of this machine?
Original Voltage is 380V or 220V, but we can also make according to your requirements
3. Is it simple to learn to opearte this machine?
It is easy for operating. we will give detailed instruction and CD to show our customers how to operate
4. How to determine the dimensions of the die sets?
We process the die sets according to your dimensions or you tell us what products you want to crimp, then we can determine the size.
5. how are you going to package the machine to prevent damage during shipping?
we will pack the machine with strong wooden box with pallet to insure the safety of the machine during shipping.
We Also Supply Many Other Types of Air Suspension Shock Absorber for Mercedes, For BMW, For Audi, LandRover, For Jaguar, For Touareg, For Porsche and etc.
Air Suspension Shock Absorber For MercedesBenz

W230

A2303200438 A2303200338 A2303208613 A2303208513

W251

A25132019312513203013 2513200425 2513203113

W164

1643206013 1643206113 1643202031 1643200625

W220(4 Matic)

A2203202238 A2203202138 2203202138 2203202238

W220

2203202438 2203205013

W221(4 Matic)

A2213200438 A2213200538 2213200438 2213200538

W221

A2213205613 A2213205513 2213205513 2213205613

W211

A2113206113 A2113206013 2113209413 2113209313

Air Suspension Shock Absorber For BMW

F02

37126791675 37126791676

E66(with ADS)

37126785535 37126785536

E65 E66

37126785537 37126785538

E53 X5 Front

37116757501 37116757502 37116761443 37116741444

E39

37121094613 37121094614

E53 X5 Rear

37126750355 37121095579 37126750356 37121095580

Air Shock Absorber For LandRover

Rangerover

RNB000740G RNB000750G L2012885

Landrover Sport

LR019993 LR023234

Discovery 3

RNB501580 RTD501090

RangeRover L322

LR012885 LR032567 LR012859 LR032560

Airmatic Shock Absorber For Audi VW

A6 4F C6 AVANT)

4F0616039AA 4F0616040AA

Q7 For Porsche(Front)

7L6616039D 7L6 616 040D

Q7 For Porsche(Rear)

7L5616019D 7L5616020D

Q7(Front)

7P6616039N 7P6616040N

A8 D3 Front

4E0616039AF 4E0616040AF

A8 D4

4H0616039AD

VW For Phaeton(Front)

3D0616039D 3D0616040D 3D0616001J 3D0616002J

A6 C5 Allroad

4Z7413031A 4Z7616051B 4Z7616051D 4Z7616052A 4Z7616051A

A8 D3 rear

4E0616001E 4E0616002E
We Also Supply Many Other Types of Air Suspension Compressors
Air Suspension Compressor For MercedesBenz

W221

A2213200704

W220

A2203200104

W164

A1643201204

W166

A1663200104

W251

A2513202704

Air Suspension Compressor For BMW

E53

37226787617

E39 E65 E66

37226787616

X5 E70

37226775479

F01 F02

37206789450

Air Suspension Compressor For LandRover

RangeRover L322

LR0060201

RangeRover 2006-2012

LR02511

Rover 2006-2012

LR041777

LandRover Discovery

LR045251

Discovery 3 4 RangeRover Sport

LR023964

Air Suspension Compressor For Audi

A6 4B C5 Allroad

8W1Z5319A

A6 4F C6 AVANT)

4F0616005E

Q7

4L0698007A

A8

4E0616005D

A6 C5

4Z7616007A

A6

4F0616005D
We also have air suspension crimping machine for air shock absorber air spring for Mercedes for BMW for Landrover for Audi and other models.
Contact Us:
If you have any questions, please feel free to contact with us. We would be very glad to help you. We will get back to you within 24 hours or get back to you immediately.
Standard dies sets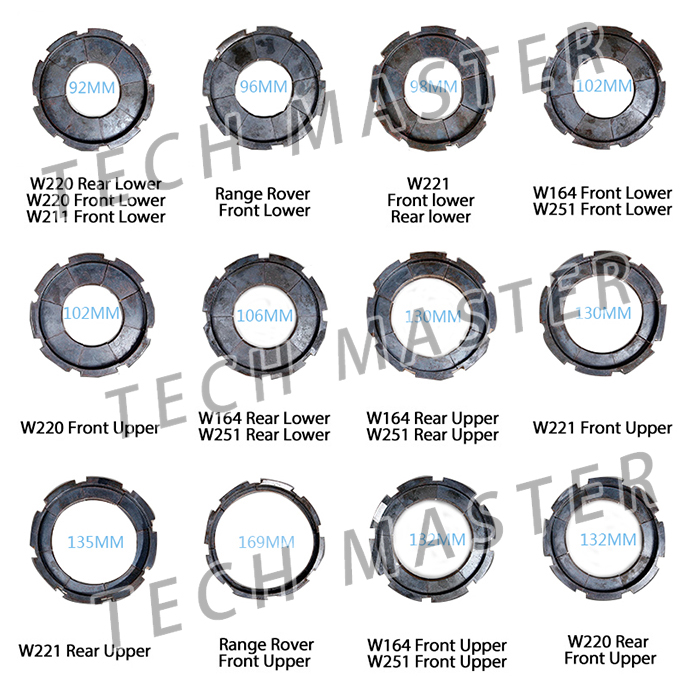 Want to Know more details about this product